We are looking back to a successful Paris Workshop week 2023! There were 10 participants from all over the world: Australia, England, the Netherlands, Scotland and the USA. And in the afternoons our cook Caroline van Stiphout joined us.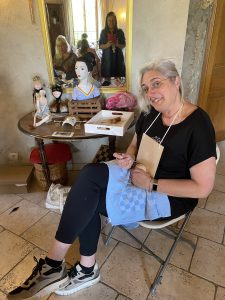 For me this was the 21st time I was teaching in this beautiful place, an old farmhouse build around a spacious courtyard.
Our own piece of France for a week!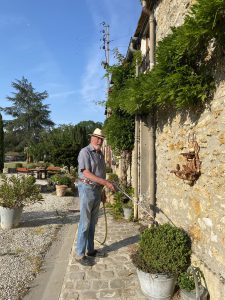 The class took place in the former pigeon tower, that is beautifully renovated into a big round kitchen, a big round living room with a half floor on top, and 4 sleeping rooms. We rented two more houses on the property for the rest of the group. All together we were with 17 people. My husband Ton and daughter Hannah and Caroline's husband Joost were there to help us. And there were a few partners arriving with the students.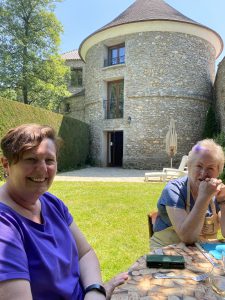 We had the best weather of the world! Apart from this wonderful spot and the awesome food that also helped to make this a great week. We had an outside lunch every day and even were able to have breakfast outside. The pigeon tower has very thick walls so inside it was nice and cool for a good working atmosphere. And working very hard we did!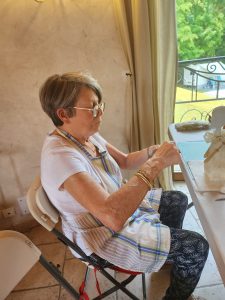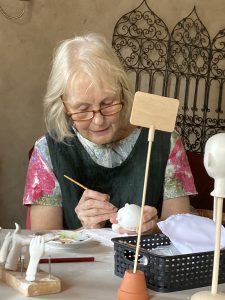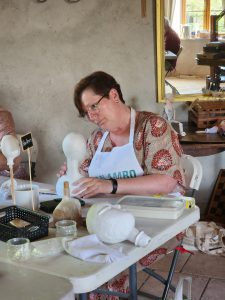 A few of the students came already to my workshop week for several years so they just followed their own program. The rest could choose to create a complete doll or to make a simpler project. Or to work with porcelain.Click here to see more pictures taken this year, and the results of the workshop week. 
Looking forward to seeing you in France one day!